×
Login / Register
Please enter your mobile number below
×
Registration
Subscribe to our newsletter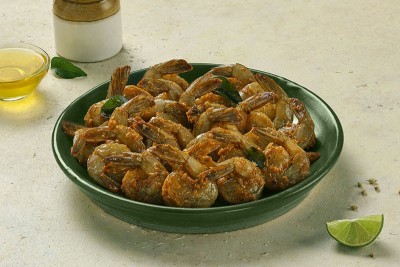 ₹475.00 ₹475.00
Special Price ₹325.00 ₹325.00 /pack /pack
A Kerala style prawn preparation of roasted onions with spices, tamarind and coconut.
Slight sweetness of the roasted onions, the spices, sourness from the tamarind and coconut together makes this dish very unique.
Best served as an accompaniment for Roti/Parotta or Rice.
Cooking Instruction:
Unpack the Kerala Prawn Roast marinated packet and transfer it to a bowl.
Scrape the masala inside the pouch and mix the prawn marinade to refreshen.
Heat up a sauce pan or kadai or an small earthen pot. Add a tsp of coconut oil.
Drop few curry leaves and crackle. Drop the Kerala Prawn Roast marinade into the hot pan and stir.
Keep stirring until the masala is sticking to the pan. Add 100ml of water and continue stir
Scrape all the masalas which is coating the pan and allow to cook on slow flame till the masala is thick .
Transfer to a serving bowl and garnish with some fried curry leaves on top.
Serve along with rice or roti/parotta.
Kerala Prawn Roast (300g)